Donation
Support free-to-use game assets.
Over the last couple of years I've released 30,000+ images, audio files and 3D models for anyone to use in any kind of project, all dedicated to the public domain. Thanks to your donation I can create even more content and support developers, students and teachers all over the world.
Your donation goes towards the creation of more game assets, but also the Pixeland community of indie game developers both online and the physical location currently under development. No matter how large or small; your donation matters!
Token of appreciation
As a small token of appreciation you'll receive a digital goodies pack which includes wallpapers, a papercraft model and certificate.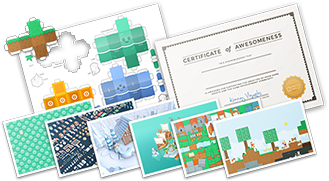 Thank you!
Purchase
In order to download this donation you must purchase it at or above the minimum price of $1 USD. You will get access to the following files:
Kenney Donation package (version 1b)
7 MB
Exclusive content
Support this donation at or above a special price point to receive something exclusive.
Custom logo design
Get a custom logo design just like these!
Some rules and hints for guidance;
Feel free to describe what you have in mind, you can also send me examples and images.
No mascots or characters - lets keep it simple.
1 revision is included, you'll also receive the source vector file and large PNG version.
Please note that a 'revision' is not a complete rework, please be as descriptive as possible.
I will try to deliver within one week however it'll probably be way quicker.