Asset Forge
Asset Forge 2.0 preview-1e now available!
---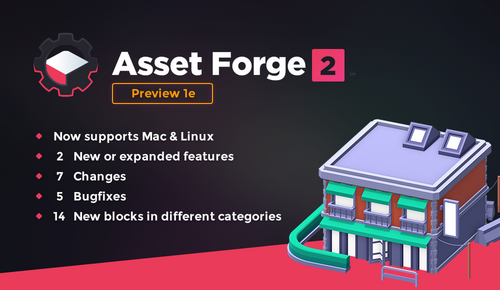 A new update for Asset Forge 2.0 has been released, this version adds support for both Mac and Linux. Before asking for support please be sure to read the documentation and especially the troubleshooting section. Thanks! Here's the full changelog.
Changelog:
Additions

Added support for Mac and Linux
Added 'Build of the day' for building inspiration on the splash screen
Added 'Open customs folder...' to 'Blocks' menu
Added tutorial: Creating custom blocks using Asset Forge
Added tutorial: Rigging a character using Mixamo
Added tutorial: UV Mapping in Blender
Bugfixes/changes
Change: Model rotates instead of camera for batch 2D renders
Change: Moved 'Load collection...' to 'Blocks' menu
Change: 'Guides' to 'tutorials', added tutorials
Change: Code changes related to Mac/Linux version
Change: Added more information to included readme.txt file
Change: Improved ambient occlusion shaders
Change: Increased grid height limit from 10 to 30
Fix: Fixed local rotation for gizmo
Fix: Anti-alias setting affecting 2D sprite export
Fix: Material saving issue
Fix: Material name including "(Instance)" in exports
Fix: Orientation of DAE exports
Blocks
Added 12 blocks to the 'City' collection
Added 2 blocks to the 'Roofs' collection
Please keep reporting bugs and requesting features over at the community.
Files
Asset Forge 2.0 preview-1e (MacOS)
49 MB
Jun 22, 2020