Asset Forge
Asset Forge 2.1.2 now available!
---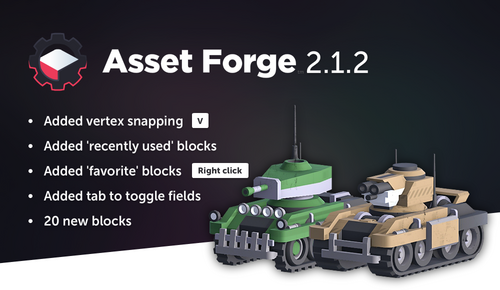 A new update for Asset Forge has been released, this version adds vertex snapping, recently used blocks, favorite blocks and tab toggling between input fields. Before asking for support please be sure to read the documentation and especially the troubleshooting section. Thanks! Here's the full changelog.
Changelog:
Additions
Added vertex snapping (press V to toggle)
Added section for recently used blocks
Added section for favorite blocks (right click to toggle favorite)
Added tab (and shift + tab) to toggle between input fields
Bugfixes/changes
Change: Small performance improvements
Change: Holding shift while rotating rotates counterclockwise
Fix: Fix for loading model files with alternate line separation
Fix: Selection doesn't rotate when batch exporting 2D sprites
Blocks
Added 4 blocks to the 'Mech' collection
Added 16 (tank) blocks to the 'Vehicles' collection
Fix: Fixed small issue related to 'Trains' collection
Please keep reporting bugs and requesting features over at the community.
Files
Asset Forge 2.1.2 (Windows)
42 MB
Jan 20, 2021
Asset Forge 2.1.2 (Linux)
53 MB
Jan 20, 2021
Asset Forge 2.1.2 (Mac)
46 MB
Jan 20, 2021