Asset Forge
Asset Forge 2.1.1 now available!
---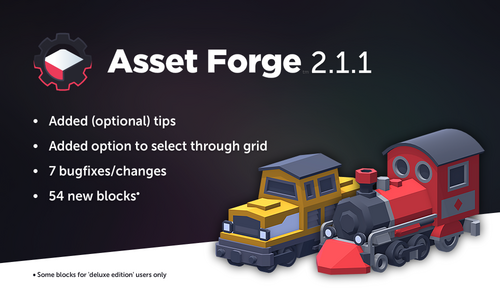 A new update for Asset Forge has been released, this version adds helpful tips (optional) and an often requested option to select through the grid. A large new collection of 50 (!) train blocks has also been added! Before asking for support please be sure to read the documentation and especially the troubleshooting section. Thanks! Here's the full changelog.
Changelog:
Additions
Added tips (plus option to disable)
Added option to select through the grid
Bugfixes/changes
Change: Several small performance improvements
Change: Changes to splash screen
Fix: Fixed exporting glTF files
Fix: World-based UV mapping for custom blocks not yet placed
Fix: Prohibit loading textures for custom blocks *(this is unsupported)*
Fix: Remove special characters from block names that break saving
Fix: Optimized code related to gizmo
Blocks
Added 50 blocks to the new 'Trains' collection
Added 2 blocks to the 'Western' collection
Added 2 blocks to the 'Greebles' collection
Fix: Fixed small issue related to quarter_sphere in the Primitive collection
Fix: Fixed small issue related to window_rounded in the Wall collection
Fix: Fixed small issue related to debris_wood in the Castle collection
Fix: Fixed small issue with duplicate name in Blaster collection
Fix: Golf holes are now passthrough
Please keep reporting bugs and requesting features over at the community.
Comments
Log in with itch.io to leave a comment.
Thanks for your work Kenney ! Asset forge really is an incredible piece of software !
[QUESTION]
Ive spent large amounts of money on other software only to have them go to a monthly fee. I no longer do business with ether of them.
Will this be a more reliable purchase? Or are you also planning on doing a monthly subscription?
P.S. I don't mind donating here and there and I do understand your hard work deserves funding, but it would be nice to know ahead of time rather than the shady surprise.

I'm absolutely not planning to do a subscription fee because I'm personally against such a set-up, you can bet on that because Itch.io is the only platform I sell on and they don't even offer the option hah.
Awesome! every update is always exciting
Thank for the update ;) This is such a great tool!

Been waiting for this blocks! Thanks for the update.
Choo! Choo! Sweet update - thank you Kenney <3