Asset Forge
Upcoming features and changes
---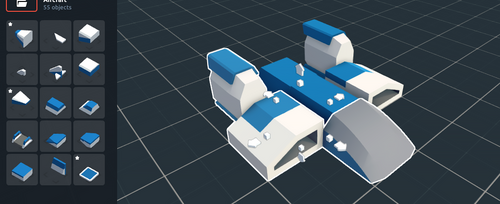 Thanks everyone for supporting us and purchasing Asset Forge! All the positive reactions have been absolutely thrilling and we can't wait to start pushing feature and content updates, here are a few of the planned changes;
Selection
The revised selection module will allow users to select and manipulate multiple objects simultaneously. This change will allow us to start implementing cloning, undo/redo and other often requested features.
Toolbox
Instead of displaying 3D live models in the toolbox (which is incredibly intensive, especially on lower-end PC's) there will be a thumbnail cache. Whenever there are thumbnails missing the application will generate and save them. This change will allow us to change pages to scrolling and add filtering plus searching.
Materials
An often requested feature is HEX color input which we'll be adding soon. Other changes include supporting custom textures, better UV controls and more uniform included textures.
UI
Other changes include confirmation for new files and closing, adding the file extension only when it's missing, various small bugfixes and better support for saved models that use custom or missing models.
Stay tuned for updates, we expect v1.2.0 to hit somewhere next week!

Comments
Log in with itch.io to leave a comment.
Can Asset Forge export pixel art? Like 16x16 tiles for example?
Do you have an estimation on the feature to import custom textures? I know it's really early stages at the moment but I am just too excited :D
While there's no exact date we covered that in the devlog, not sure what CTRL + P would do.
Probably Ctrl + Paste. :-)