Pixross
Update 1.3.0 (new content)
---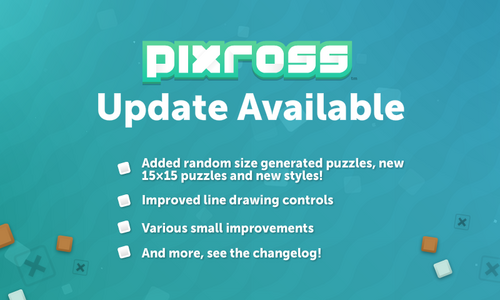 A new update has been released for Pixross adding new content and features, see the full changelog here:
Changelog
Added 10 new (15×15) puzzles
Added random size option for randomly generated puzzles
Added switch between drawing modes during gameplay (see below)
Added 6 new styles (3 tile styles, 3 backgrounds)
Improve line drawing (see below)
Menu screen now lists percentage of unlocked styles
Styles dialog now shows from what category has been unlocked
The gashapon machine is now slightly faster
Added 🥕
Switching drawing modes
You can press spacebar to switch between free draw and line mode, you can also hold shift (left or right) to temporarily switch. The option you select in the options menu will be the default mode when starting a puzzle.

Improve line drawing
The game will now always attempt to draw tiles in a line whether your mouse cursor is near the line or not. It'll also stick the tile selector to the line column or row.

Again, thanks for your feedback and reviews - all of these features were added after being requested by players. Stay tuned for more updates in the near future!

Files
Pixross (1.3.0, Windows)
37 MB
96 days ago
Pixross (1.3.0, Linux)
38 MB
96 days ago